Posts made in August, 2014
Patty Wetterling posted an article on CNN's web site yesterday. It's titled, "Five questions for my son's abductor," and it is one of the most powerful, heart-wrenching things I have ever read. I'm sharing it here in the hopes it can reach as many people as possible.
———————-
Editor's note: Patty Wetterling is a tireless advocate for families of missing children, including her son Jacob Wetterling, who was abducted in 1989 when he was 11. Jacob's story will be featured on "The Hunt with John Walsh" Sunday at 9 p.m. ET.
(CNN) — October 22 will mark 25 years since my son Jacob was taken from his family as he rode his bike home with his brother and a friend on a rural Minnesota road.
Jacob was a fun, active, athletic, kind, 11-year-old boy who loved peanut butter and football. He was most known for his sense of fairness.
Not knowing what happened or who abducted Jacob has left so many unanswered questions for Jacob's father, sisters, brother and me.
If I had the chance to talk face to face with the man who took my son away, here's what I'd want to know: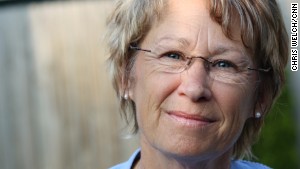 Patty Wetterling has spent the past 25 years raising awareness about missing and exploited children
Who are you?
I believe that somebody knows. It's time to quit protecting the bad guy, even if it is a family member. It's time to speak up for Jacob. Please tell me who took our son.
If YOU are the abductor, it's time to tell. You can't feel good about this. Find some peace. Please write back.
The unwavering search for our missing kids
Is Jacob still alive?
Sometimes the phone rings and there is no one there. It's probably a telemarketer or a wrong number, but my heart cries out, "Jacob, are you there?" I save articles of "kids" who came home after long periods of time: three months, nine months, four years, 7½ years, 10 years, 18½ years.
It CAN happen. I don't know, so I hope and pray that you got away, Jacob. We need you back. We love you more than the flowers love the sun and the rain. My heart wants to believe you're OK.
Please give us some answers.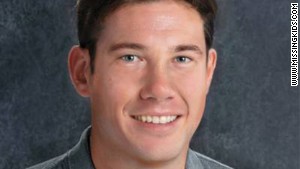 This age-enhanced image shows what Jacob Wetterling might look like today in his mid-30s.
What made you think you could steal a child?
Jacob is so deeply loved and missed by his mom and dad, brother, sisters, cousins, neighbors and friends. I have read a lot about kidnappers and child molesters and I know that you are all people, human beings that need help.
Maybe you feel bad. Maybe you told someone, but I still live with so many questions — like, how could you? And how could anyone still keep the secret? You can free yourself of carrying this. Please explain this to me.
2009: Jaycee Dugard's story gives hope
Why didn't you let him go?
What happened? You probably had other boys that you victimized and released. I think you meant to let him go and something went terribly wrong. I need to know what happened. Please talk to me.
What was the last thing that Jacob said to you?
Jacob had a keen sense of fairness and always stood up for people who he thought needed an ally, a friend. He probably would have befriended you too. I need to hear his voice again or to hear the last words he said if he can't speak to me himself. Please tell me.
More on Jacob's story from CNN.com…
NEXT: John Walsh and Jared on WCCO Radio
Read More
A few announcements before I begin…
First, set your DVRs for Sunday, August 31, 8pm CST for the season finale of "The Hunt with John Walsh" on CNN. We got the official word last Friday, so we're very excited to get Jacob's story out in front of a national audience and see what happens.
I'm curious how they'll put the story together since there's not one known suspect to actually "hunt" in Jacob's case, but I'm sure it will be great. John Walsh even got his first official capture last week, so if you missed the dramatic shootout between Charles Mozdir and NYC police, check out the story on CNN:
Second, I misreported some information in my "Tidbits" blog post a few weeks ago, which I have since corrected. I stated that I had recently learned about three additional Paynesville incidents that I hadn't heard about before. One of the researchers from John Walsh's show had relayed the information on to me, but the details were off just a bit.
On Tuesday, December 9, 1986, the Paynesville Press reported the following front page story (note, this article ran five months BEFORE the May 26, 1987 article that talks about the five Paynesville attacks):
-=-=-=-=-
Assault incidents reported
Two incidents on two separate occasions involving 13-year-old boys have been reported to the Paynesville Police Department.
The first incident was reported in August of this year and the second reported on Nov. 30.
On both occasions, the victims were attacked from behind and were verbally threatened. Neither of the victims were seriously harmed, according to the Paynesville Police. However, the second victim was sexually assaulted.
The Paynesville Police is cautioning parents to advise their children not to be out after dark because of the two incidents.
The Paynesville Police don't know if the two incidents are related. There are currently no suspects in the investigation.
If anyone has any information concerning these two incidents, they are asked to contact Crime Stoppers, where a person giving information can remain anonymous, or contact the Paynesville Police.
-=-=-=-=-
Because this story ran BEFORE the article from May 26, 1987, I assume these two incidents from 1986 were already included in those five that were reported in May 1987.
Using this information, I've now compiled a list of ten separate Paynesville incidents, including two we haven't found yet (August 1986, and Spring 1987). If anyone can help fill in the blanks, please comment below or visit my "Contact" page to send me a private message. In the next few weeks, the Paynesville Police Department will be working with the National Center for Missing and Exploited Children to look at these incidents more closely, so any help you're able to provide would be greatly appreciated!
March 9, 1986 – Attempted drive-by abduction of 12 year old boy near G&T Foods
June 1986 – Three kids playing hide-n-seek at middle school playground, Town & Country Days
August 1986 – By the river? At the middle school playground?
November 30, 1986 – Alley between the middle school and hospital
February 14, 1987 – Ben Franklin, downtown, 122 West James Street
Spring 1987 – By the river? At the middle school playground?
May 17, 1987 – By the hockey rink at the Catholic church, two boys riding bikes
Summer 1987 – By the river #2, camping incident, man spying on group of boys
September, 1987 – By the river #3, man in parka with orange lining, Lyndall Avenue
Late 80s or early 90s – Boy chased from middle school to his aunt/uncle's house

View Paynesville Incidents, 1986-1989 in a larger map
Now, onto incident #11.
I received a message on my blog from a woman who had grown up in Paynesville and was 14 years old when Jacob was abducted. She is fairly certain this incident took place the summer before she started 9th grade, so that would make it the summer of 1989.
She is also the sister of the boy from incident #9 above. He was the one who was chased off his back porch by a man wearing a dark parka with orange lining.
Here's her story.
-=-=-=-=-
One night, I was late for my curfew. I had been uptown at Papa's Pizza with my friend and heard the 10pm whistle blow, so I knew I had to hurry home.
Normally I would have taken James Street home because it was lit, but since I was late, I decided to take the alley home instead because it was quicker. It went behind the Post Office (Bank of the West), and Haines Electric. When I got to the alley by Haines Electric, I was coming behind the first house on the right. They had a row of lilac bushes that was in the shape of an L, but there was a gap at the "joint" where they kept their garbage cans.
As I was passing that spot, suddenly the garbage cans got knocked over and a man came running out after me. I was so scared that I couldn't even scream. I remember I could hear the gravel spinning under my tires, and I made some kind of sound. I think that's when he realized I was a girl. I was kind of a tomboy, had short hair, and was riding a boy's bike, so I'm pretty sure he thought I was a boy. He ran after me for about 20 feet, then he stopped. I remember looking back and knew it was a man's stature. He was taller than me and was wearing a long dark coat.
I told my parents immediately when I got home, but I'm not sure they believed me… they maybe thought I was making it up because I was late. So, it never got reported. I'm pretty sure it was a Friday night… probably toward the end of summer. I remember having a light jacket on.
-=-=-=-=-=-
Again, thanks for following along. If you have any information regarding these or similar incidents around the Paynesville area during this time, please contact the Stearns County Sheriff's Office at (320) 259-3700. You may also contact the National Center for Missing and Exploited Children at 1-800-THE-LOST.
Read More